Latest Notices
We look forward to seeing all pupils in September 2020:
Reception Group 1 - Monday 14th September at 9.00am
Reception Group 2 - Monday 21st September at 9.00am
Reception Group 3 - Monday 28th September at 9.00am
Nursery - Monday 14th September at 10.30am
Pre-Nursery - Tuesday 15th September at 8.30am
Reception/Nursery New Intake Sept 2021 - further information regarding open days will be posted here when available.
Welcome to Suttons Primary School
On behalf of all the children, staff and governors, I'd like to warmly welcome you to Suttons Primary School.
Suttons is a place where high standards, individuality and a sense of community are fostered within a happy, safe and caring learning environment.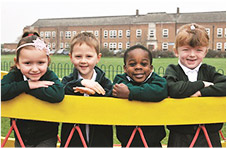 We are a school that likes to celebrate success - at every level. The life of the school is driven by enthusiasm and a desire to achieve. We aim to bring learning alive, making it exciting, stimulating and contextual to each learner. We want to give our children a thirst for learning that continues with them throughout their future school experiences and lives.
An essential ingredient for this to happen is teamwork. We view education as a joint venture, involving everyone - children, parents, staff, governors and the wider community. We hope that we will be able to depend on your co-operation and support in this partnership, hoping that together we can provide the best for every child.
This website has been created to answer as many questions as possible that might be asked about our school. We hope it will alleviate any anxieties that you have when joining us.
I would encourage you to arrange to visit our school and experience the learning environment for yourselves. So please do make time to visit the school or call us for a chat. We are always happy to help.
David Unwin-Bailey, Headteacher