Reading
"Reading is taught well. Pupils become
confidentand enthusiastic readers with
a good understanding of text."
OfSTED
The children in our school show a great enthusiasm for reading and we want children to develop lifelong reading habits. The teaching of reading in the Foundation Stage and KS1 is done through the RWI phonics programme, which is taught in small groups to support the needs of the children. In KS2 reading is supported and developed through our Literacy and Language Programme. In addition to this, children develop and enhance their reading skills in daily guided reading sessions which run from Reception to Year 6. We use both classroom based reading material from our book corners and our well stocked library to introduce our children to the widest possible selection of books. In addition to this, we also subscribe to an online reading scheme called Bug Club.
We believe that children become confident and fluent readers when both school and home support them. We encourage parents to listen to their children read a little every evening and record comments in their reading books. At Suttons we want to celebrate children reading at home and in every class we have introduced a "Reading Road". Every time a child read 5 times at home they moved around the road and receive rewards. In addition to this, children also have the opportunity to become a "Reader of The Week".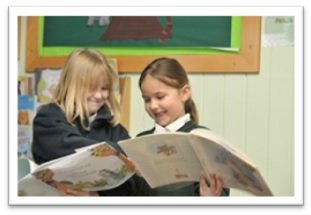 Reading Schemes
At Suttons Primary we use

Read Write Inc

as our preferred way of delivering high quality teaching of synthetic phonics.
Read Write Inc. combines 5 clear steps to ensure real success in literacy:
A systematic and dynamic whole-school approach

High quality literacy teaching

Inspiring whole-school literacy training

Effective assessment and grouping

Ensures parents are kept fully involved
More information about Read Write In is available below: